Wintape Metric Body Tape Measure
Product Description:
1) This metric body tape measure is accurate and easy to use. Double side metric scale, one side 150cm, the other side 157cm.

2) The metric body tape measures can be used to measure any part of your body including arm, chest, waist, calf, thigh, hip and more.

3) You can easily keep track of your body measurements and progression of your muscle growth or the reduced desired shape.

4) A push-button retraction and locking feature which ensures a snug measurement. Easy to measure by your self.
5) Eco-friendly metric body tape measure can pass Europe and the United States ROHS, En-71 and 6P (without phthalate) environmental testing.
6) Metric body tape measure is used not only as a measuring tool, but also as a promotional gift.
7) PVC coated fiberglass make the tape stronger, softer, and waterproof.

Product Specification:
| | |
| --- | --- |
| Item: | |
| Brand: | |
| Item number: | |
| Material: | ABS plastic case, PVC+fiberglass tape |
| Size: | (Tape)150cm*13.5mm, (Case)9*6*2cm |
| Color: | (Tape) White tape with black scale, (Case) White |
| Scale Design: | |
| Function: | Measurement, Promotion, Medication |
| Logo: | |
| Security certificate: | |
| Package: | 1pc/poly bag,90pcs/box, 360pcs/carton, Carton size:44*29*35cm 17/18kgs |
| Shipping: | |
| Payment Term: | T/T, Western union, Paypal |
| Service: | Free existing sample can be sent to you |


2. Product Photos Show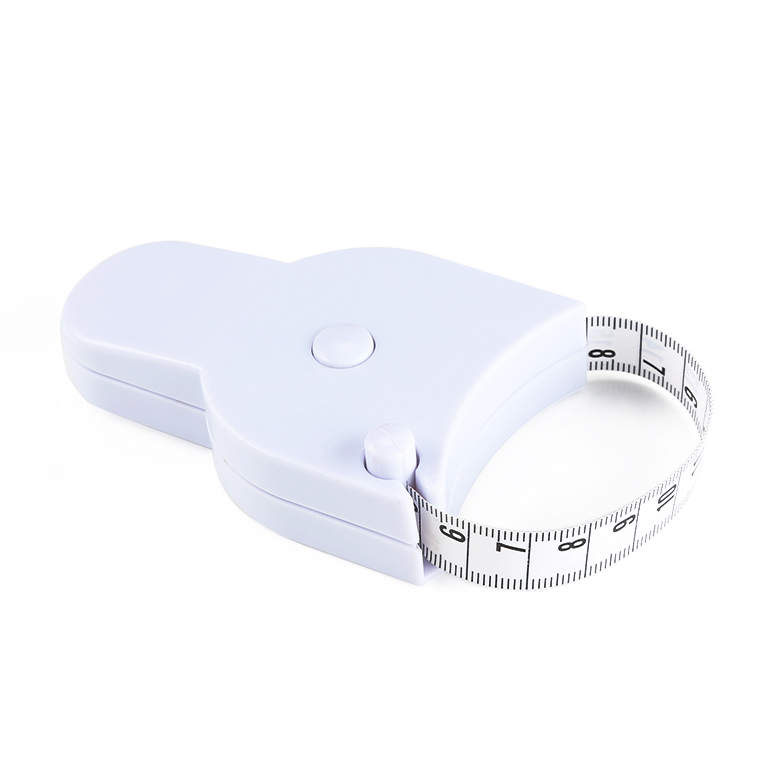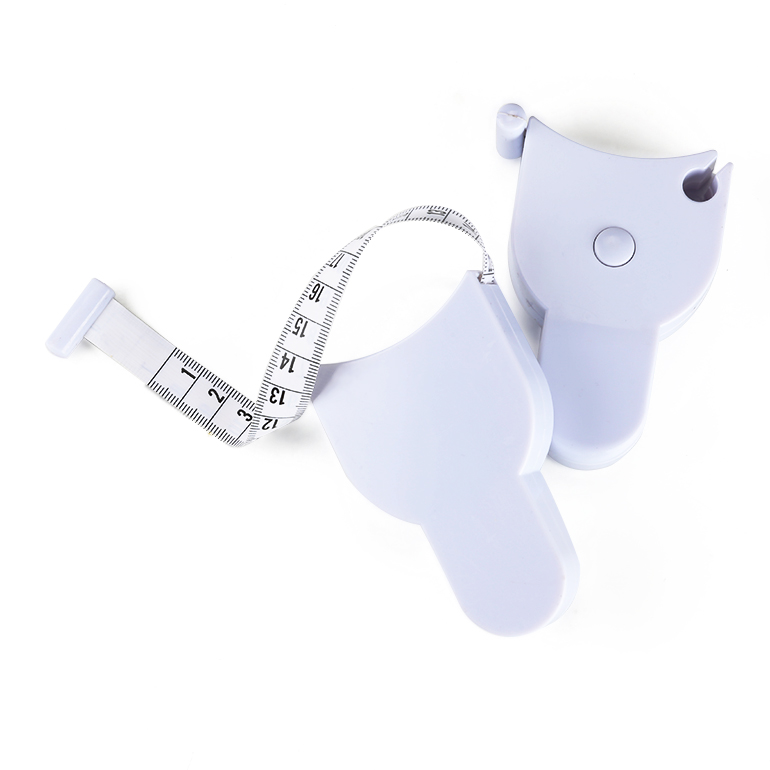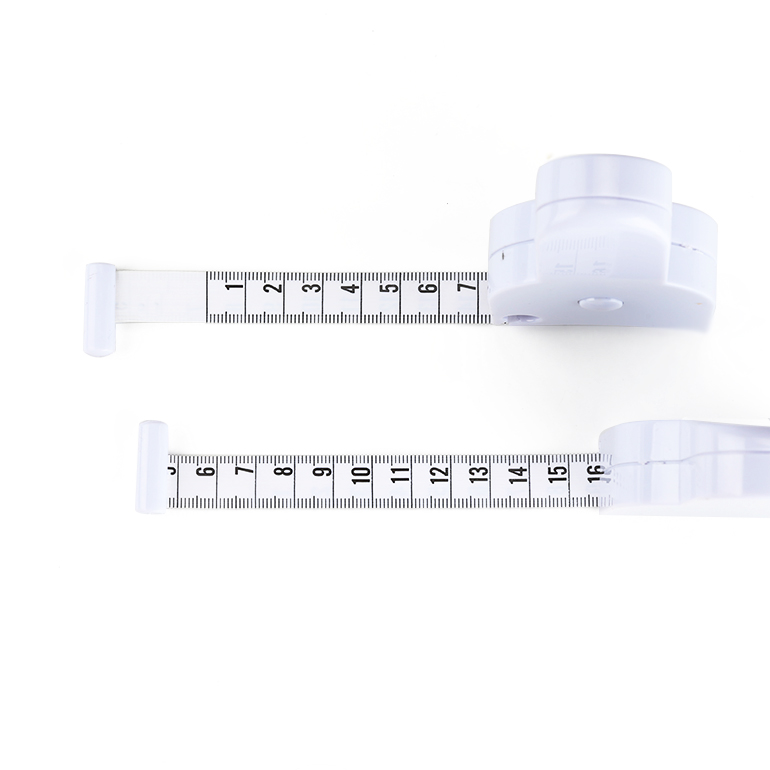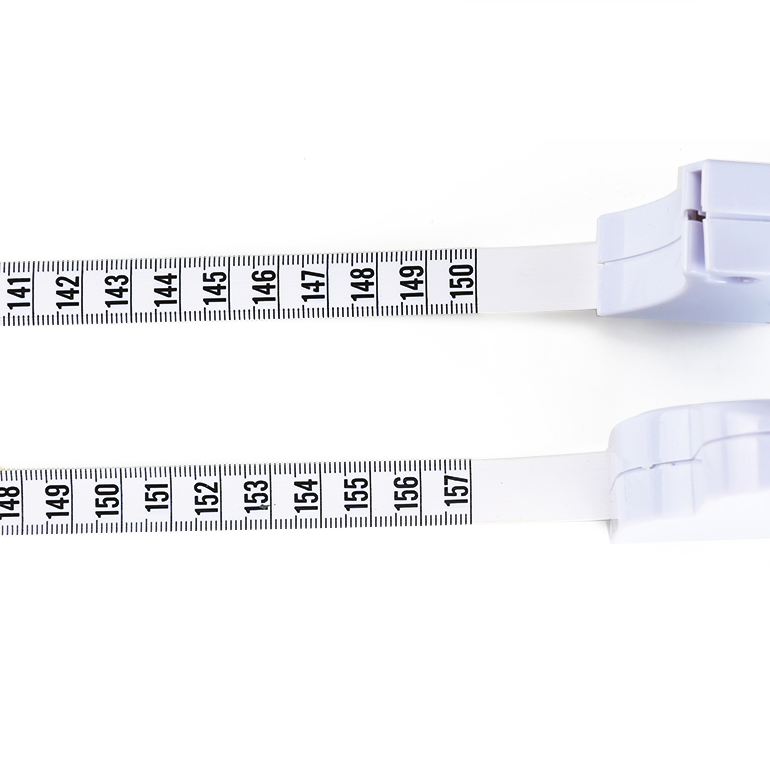 3. Product Usage

1) You press a button and the tape tightens around your body part. You won't have to worry about, "Did I hold the tape tigher last time?" as the tension is always the same for consistent measurements every time. The tape starts measurement at 2" since the tape casing holds the tape and that part measures around 2 inches. retractable fiberglass measure tape

2) You hold the handle, which is nice and solid and well shaped to grab onto. Then if you want you can "make the loop" and step into it, or pull the loose end around, depending on what part of you you are measuring. But the nice thing is you can keep everything loose while you get it into place.

3) Once you are close to where you want it to be, you push the button on the unit and it automatically snugs up. So you don't have to try to hold it in a certain spot or try to make sure you're holding it "tightly enough" or "loose enough". It always snugs up to the same level of tension. You only need to hold with one hand because the unit has connected into its closed loop. This means it's very easy to then look at the numbers and see what the total.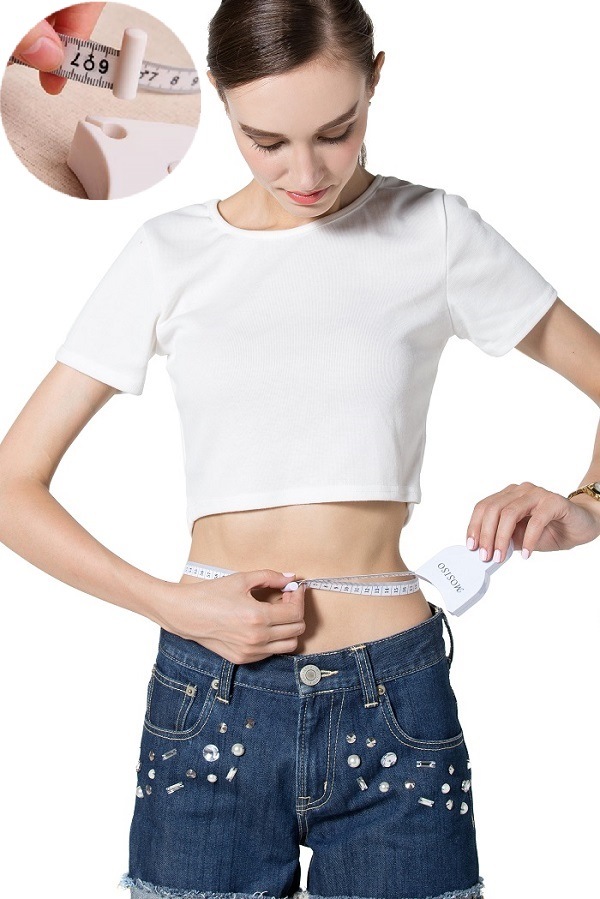 4. Packing & Delivery
A variety of shipping methods can be chosen and it is convenient for you.
- Partnering with internationally trusted logistic service providers such as DHL, FEDEX and UPS, we ship tape measures to over 200 countries around the world. retractable fiberglass measure tape
- You can choose the express door to door service which is more favourable, fast and convenient.

If you are interested in this metric body tape measure, please don't hesitate to send us the inquiry. Wintape as the professional metric body tape measure manufacturer, we could be your good supplier.